Aspropotamos
The extended Community of Aspropotamos, is constituted by Community Apartments scattered throughout various parts of the Pindos mountains. The amount of vegetation is so vast that it gives one the impression that the area is an embroidered green painting on canvas. Nature has thriven on this land. Rare forests of Beech, Fir, Pine and Oak trees mingle harmoniously with Plane, Maple and Willow trees creating enchanting colors and lingering scents. This landscape provides shelter for deer, roes, wild goats, wolves, wild boars and bears. The Pindos mountain tops are rich in water springs; in their downward journey they mold the River Aspropotamos tributary of the River Acheloos which flows into the Ionian Sea. It is evident by the myths and legends concerning its "birth" that this landscape's extraordi
nary beauty has astonished generations throughout the years. Trying to understand or explain the breathtaking beauty of this land, they involved even fairies or ancient gods in its creation. Stone bridges, old mansions and churches dominate within this land. Come, and enjoy exploring the various villages of this region. Their unique culture "Vlachoi" and local products will astonish you.
Krania
The Holy Monastery of the Holy Cross of Dolianon due to its 13 domes constitutes one of the greatest Byzantine temples in Greece. Its construction dates towards the end of the 18th century. The temple's rhythm is royal and it consists of three aisles. It originally operated as a monastery but was abandoned in 1924. Externally one can distinguish embossed depictions, something which is also common in other churches of the region. The temple has been characterized scheduled by the Ministry of Culture.

Ioannina
Built by the shores of lake Pambotida, the city of Ioannina is the picturesque capital of Epirus. This culturally rich city combines a long history with an active and blooming social cultural and economic development. This city's traditional buildings, museums, Castle and outdoor theater Frontzou, which is located in a beautiful forest within the city, along with many other places, with great historical and cult
ural value are excellent displays of the traditional architecture of the region. The small island of the lake Pambotida, which is inhabited until nowadays, is a unique worldwide phenomenon. The entire island in itself is an attraction decorated by its churches and the remains of Ali Pasha's palace (seraglio).
Karditsa - Plastira's Lake
The prefecture of Karditsa is the smallest of the four Thessalian prefectures. Its main characteristic is the contrast between mountains and valleys. It is a place with oppositions and incredible beauty that weds in its limits the mountain range of Agrafa in the west and the Thessalian plain in the East. G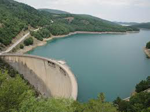 et to know it! The lake Plastira, the adornment of Agrafa, is found 25 km westwards of Karditsa. The landscape is fascinating as the astonishing lake is embraced by tall green surrounded mountains.
Designed by Kostas Chasiotis